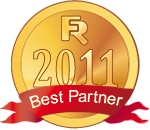 Dear Friends!
We are going to reward our best dealers and present them with personal certificates for their good work and special contributions in FastReport product promotion. The key results and awards given are:
We would also like to acknowledge sales growth in the UK of 52% and the Czech Republic of 69%.
We thank our partners from other countries and give them "Partners of Year 2011" status :
Component Source (UK and World), Jan Kadlecek (Czech Republic), Olivier Pennec (France), Danysoft (Spain), Linksoft (Taiwan).
Michael Philippenko rewards Jan Kadlecek