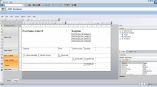 FastReport.Net for SAP Netweaver is a fully functional report generator for SAP.
A report generator for SAP based on FastReport.Net components. Compatible with the current versions of SAP GUI and SAP Netweaver. Supports report generation both on the user's frontend and a dedicated server with subsequent display of the report in SAP GUI or the browser.
You can use the SAP report generator to create reports in SAP, use interactive preview tools, use a built-in scripting language (С# or VB.NET) for additional data/report processing during report generation.
Features:
Consists of 3 main components:
FastReport.Net components for calls from SAP GUI
SAP ABAP objects for interaction with FastReport.Net GUI components
A FastReport.Net server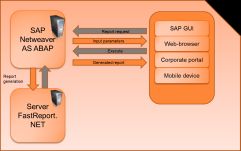 Possibility to call reports from ABAP programs to print documents\messages and periodical reports.
Possibility to call reports from ALV-grid. Integrated support of CL_GUI_ALV_GRID, possibility to embed into other ALV components.
Access to reports and functions is controlled by the standard SAP authorization concept.
Compare FastReport.Net for SAP Netweaver with other report generators for SAP:
Quick report creation from scratch
A convenient and intuitive report editor
A built-in scripting language (C#, VB.NET)
Possibility to generate a report both on a client side (SAP GUI) and a dedicated server (saving the result to a PDF file and displaying result to user)
Possibility to export to a number of popular formats (PDF, MS Office, Open Office, Text file, etc.), store data in a cloud (Google drive, SkyDrive, Box), send reports by email.
Reports in the XML format!
Possibility to edit a report in the preview mode
More details about the FastReport.Net report generator
The benefits of using FastReport.Net for SAP Netweaver
Native manageable code for .Net
A modern solution that requires no weird additional components, virtual machines and gigabytes of strange files. No more "Access violation in С++ library" errors!
Yes, it's very (!) compact! How about just 10 megabytes?
One of the most powerful solutions on the market.
Converter of report forms from Crystal Reports and RDL (MS Reporting Services)
You can order an edition with full source codes and be 100% sure about the reporting solution you use!
Compliance with modern international standards (Fips Algorithm Policy, Open Document, XML, PDF/A)
Editions
| | | |
| --- | --- | --- |
| | Standard | Corporate |
| Users license count | unlimited | unlimited |
| Developers license count | 3 | 10 |
| Report generation server/service | no | yes |
| SAP GUI support for Windows | yes | yes |
| SAP GUI support for Java | no | Report preview |
Full integration with the system based on SAP Netweaver.
Contact us for more information about the product.
Full source code - available separately.