Advanced Matrix Object
This object, like the "Matrix" object, allows you to build summary reports.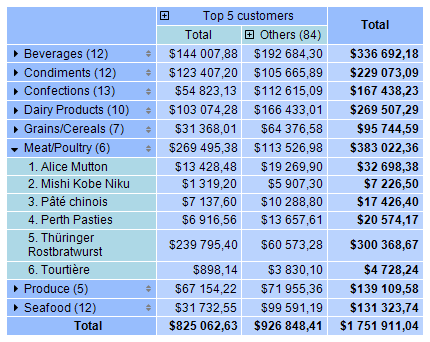 Here is a list of its key features:
row and column headers can contain groups and simple elements in any order. This allows you to build asymmetric reports;
collapse buttons allow you to interactively manage the visibility of individual elements;
sorting buttons allow you to interactively sort the matrix by the selected values, including the total values;
Top N grouping allows you to display N values in the header, and group the remaining values into a separate element with the ability to expand;
output of matrix headers in a stepped form;
sorting headers by total values;
a wide range of aggregate functions;
support of custom aggregate functions;
a wide range of special functions that allow you to get the values of totals, adjacent cells, as well as functions for calculating percentages;
support for "Sparkline" and "Gauge" objects in data cells.