FastReport.Net - rapportgenerator voor ASP.NET en MVC
Met FastReport.NET kunt u applicatie-onafhankelijke rapporten bouwen. Met andere woorden: FastReport.NET kan worden ingezet als een standalone rapport tool!
Kijkt u zelf:
Omvat een krachtige designer om rapporten te creëren en te bewerken. Uw applicatie kan de tool uitvoeren vanuit de code;
Omvat een online rapportdesigner voor ASP.Net (alleen in de Enterprise-editie);
Maak verbinding met diverse databases, maak gebruik van elke tabel in de database of ontwerp een query,
Voeg dialogen aan rapporten toe om de gebruiker keuzes te bieden of iets te laten kiezen voordat het rapport wordt gegenereerd;
Maak gebruik van het interne script om interactie tussen dialogen, controls op een form of complexe data verwerking te realiseren;
Bekijk het resultaat, druk het rapport af of exporteer het rapport naar een van de gebruikelijke document typen.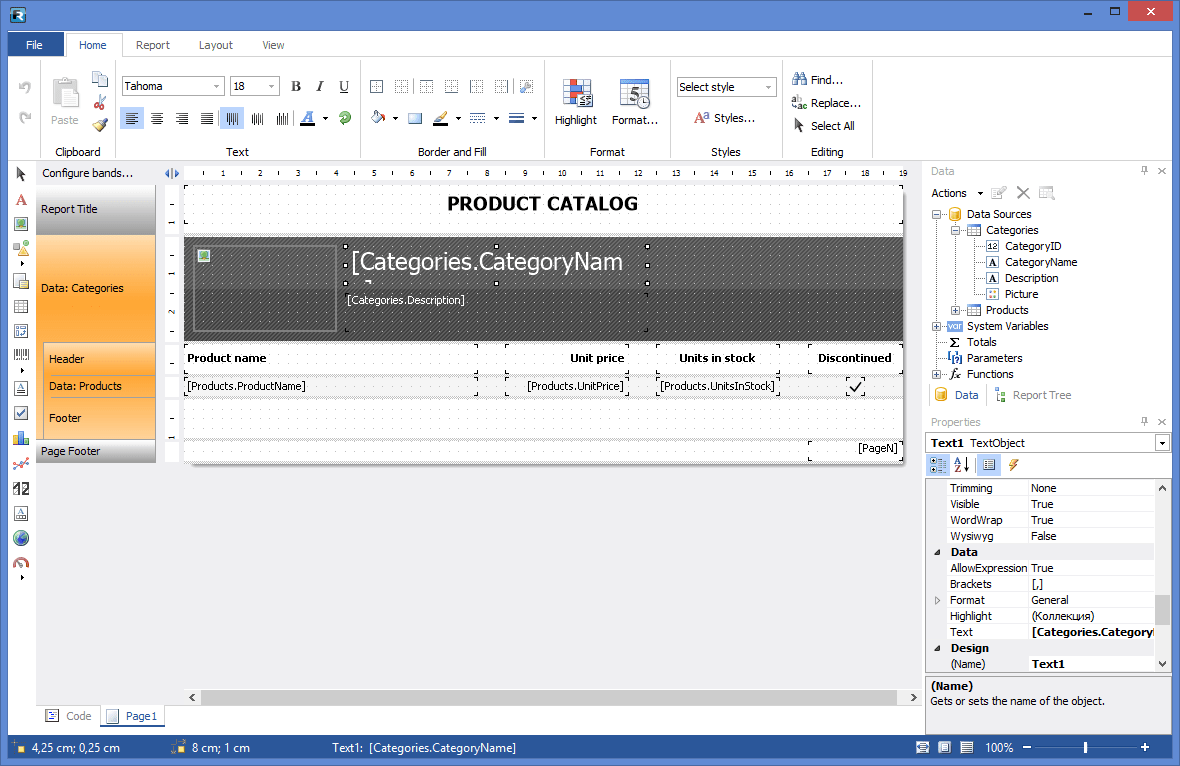 Live ASP.NET demo Live ASP.NET MVC demo Online Designer demo Live .NET Core demo
Features:
FastReport.Net is geschreven in C# en bevat alleen beheerde code. Het is compatibel met .NET Framework 2.0-4.x en kan gebruikt worden in MS Visual Studio 2005-2015 en Delphi Prism.
In de Professional-versie is de volledige broncode beschikbaar. FastReport.Net kan aangepast worden aan uw behoeften.
Ondersteunt clouds. FastReport.Net kan rapporten opslaan naar de volgende diensten: Google Drive, DropBox en SkyDrive.
Ondersteunt import en export van het RDL-formaat. Vergelijkingstabel RDL vs. FastReport.Net.
Kan templates van Crystal Reports importeren. Vergelijkingstabel Crystal Reports vs. FastReport.NET.
De uitbreidbare FastReport.Net-architectuur biedt de mogelijkheid om eigen objecten te creëren, filters, wizards en DB-machines te exporteren. Als de bestaande kenmerken niet volstaan, kan u ze uitbreiden!
Heel compact en echt snel!
Voordelige prijs en een correct licentiebeleid. Voor een redelijke prijs krijgt u een complete rapportageoplossing met royaltyvrije runtime-rapportmachine en een designtool