Speaking of text editors, we immediately present coryphaeus as Microsoft Word, which for many years has occupied a pedestal among office applications. And although its first version appeared in 1986 for the IBM platform, it gained real popularity in the nineties already among Windows users. Like all Microsoft products at that time, Word had its own closed format of DOC documents. However, the monopoly on the doc format did not tire of many, and on the wave of development of the open source movement in the 2000s there appeared an alternative text processor with the open format odt. In 2006 it received the international standard ISO/IEC 26300.
And in spite of many negatives in its direction, it gained popularity among open source software fans. However, this format did not manage to enter the market of corporate clients. For too long, Microsoft has been the dominant product in office software. A huge number of documents were created in doc format and a huge number of users were trained to work with Word.
However, Microsoft had to respond to the new open format, and MS Office 2007 introduces the new open format DOCX. Its purpose is the same as DOC, but in essence it is a completely different format that uses ODT principles. At the same time, Microsoft has removed the veil of mystery from its aging DOC format. Moreover, in subsequent versions, MS Word already supported ODT. But also possessive products were not left aside. Now any "self-respecting" word processor supports all three formats.
Now let's consider each of these formats a little more in detail.
DOC format
Its name is not an acronym, but an abbreviation for document. This format dates back to the early 90s and is still in use today. Although in 2007 it lost its relevance due to the new, targeted format docx. However, after the specifications of this format were disclosed in 2007, all modern word processors started to support it, because by that time a huge number of doc.
Its internal structure is quite complex and represents an entire file system. It is a binary file and you can only open it with a special text processor, such as MS Word or OpenOffice Text. The doc format allows you to store images, multimedia and other files inside a document, but its main advantage is the support of cascading styles.
This format extends the possibilities of rtf and allows to use cascading styles, tables, sheet markup, macros, document formatting, images, diagrams, various metadata. Thus, it covers most user needs for electronic documents.
ODF format
As mentioned above, this format was created as an alternative to doc. Many organizations that were part of the OASIS community have worked on this standard. And in 2006 its ISO/IEC 26300 standard was adopted.
The document is based on XML markup language, placed in a ZIP archive. In addition to the document itself, the archive includes files referenced by the document (images), metadata, etc. But by using archiving, an odf file is very lightweight compared to doc. Since we are talking about a word processor, the right thing to say is odt, not odf. After all, ODF writes a whole family of formats: odt for word processors, ods for table processors, odp for electronic presentations.
The native (designed specifically for it) office solution created for ODF format is OpenOffice. Just like Microsoft Office, it includes a whole set of office programs for working with: text, tables, presentations, vector graphics, database and formulas.
Previously, we have already noted that ODT format supports a variety of word processors, such as MS Word, and ODF solution LibreOffice, OpenOffice, and the free Google Document.
Naturally, the first generation of ODF 1.0 format had its disadvantages, for example:
No description of the macro specification;
No description of the use of digital signatures, although the office suite allows to use them;
It is not possible to insert tables into the presentation, although MS PowerPoint allows it;
No standard formula language.
Some of them have been fixed in version 1.2. However, the main disadvantage, according to users, is the inability to correctly reproduce doc documents created earlier in MS Office. That is, they open, of course, but do not look the same as in the native program. But by the time OpenOffice appeared, most electronic documents were in the doc. But with format docx affairs are much better.
One way or another, but Microsoft Office practically did not concede its position on the market, and thanks to the appearance of the open format docx has won the trust of supporters of open source.
DOCX format
DOCX format, aka Office Open XML, aka Microsoft Open XML, aka Office Open XML. It was created in 2007 in response to the emergence of the Open ODF and uses the same principle of creating a file - a zip archive that stores the xml of the document itself and files referenced by the document(s), as well as files with metadata. An advantage over ODF is the powerful MS Office backend. Millions of users would not want to give up a handy tool in order to move to a free format. But the closed doc format obliged corporate clients to pay a lot of money to the American Corporation. Thus, Microsoft kept its clients who "looked" at ODF.
DOCX is standardized: it uses ECMA-376, ISO/IEC 295000 and ISO/IEC 29500 Strict specifications.
Comparison .
And if the format doc is structurally different from docx, then docx and odt are essentially brothers. Both are zip containers with xml documents inside. Each of them has its pros and cons. But both of them are superior to doc at least in terms of file size. Thanks to archiving the content of the document, the file size is much smaller - 2-3 times less depending on the amount of media and graphic content.
Which of the two formats is preferable, docx or odt. Although word processors provide support for competitors' formats, their display differs not in the best way from the original. Therefore, it cannot be said that there is a universal solution for all formats. You will have to choose a format from the scope of application. If it is a question of the large enterprises which used before MS Office they obviously have the big archive of documents in format doc and the exchange of documents with other enterprises is made most likely in format docx. Nobody better MS Word can display documents in own formats, at least for now. In this case it is preferable to use MS Word, with format docx.
If your purpose is to leave the paid office software and you do not care much about compatibility of formats, odt is quite capable to replace both doc, and docx. Many large enterprises have already switched to OpenOffice, which means that this task is quite feasible.
DOCX and ODT in the report generator
Speaking of office documents, one can't help but think of reporting. Modern report generators must support exporting reports to the most popular document formats. For example, the report generator FastReport.Net supports exporting to the docx and odt formats. And the export is "sharpened" for correct display primarily in the native word processor.
This is how the original report looks like, which we will export into both of these formats: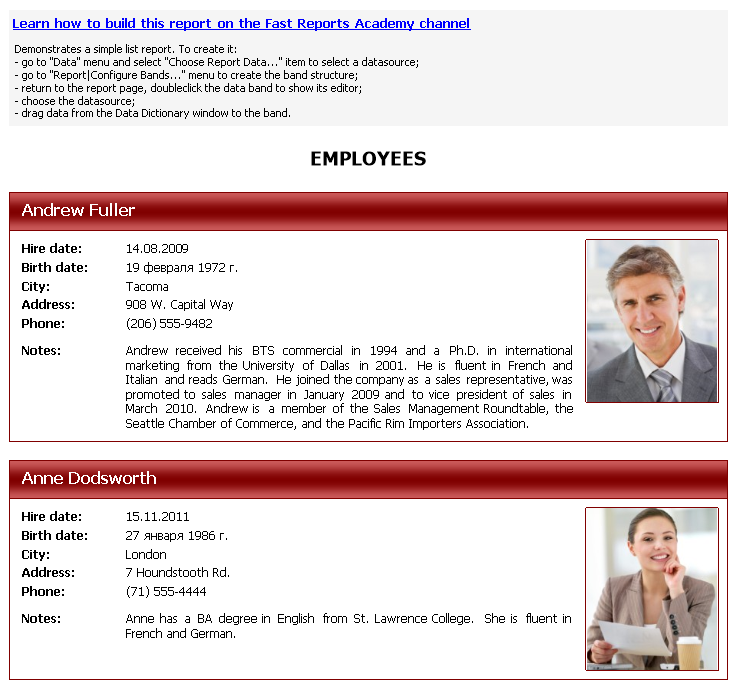 Let's export the report to Microsoft Word (docx) format: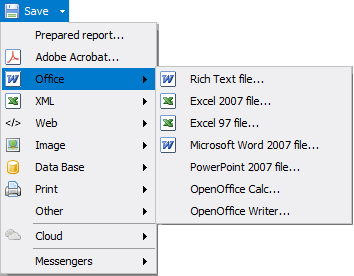 That is how it looks like in MS Word: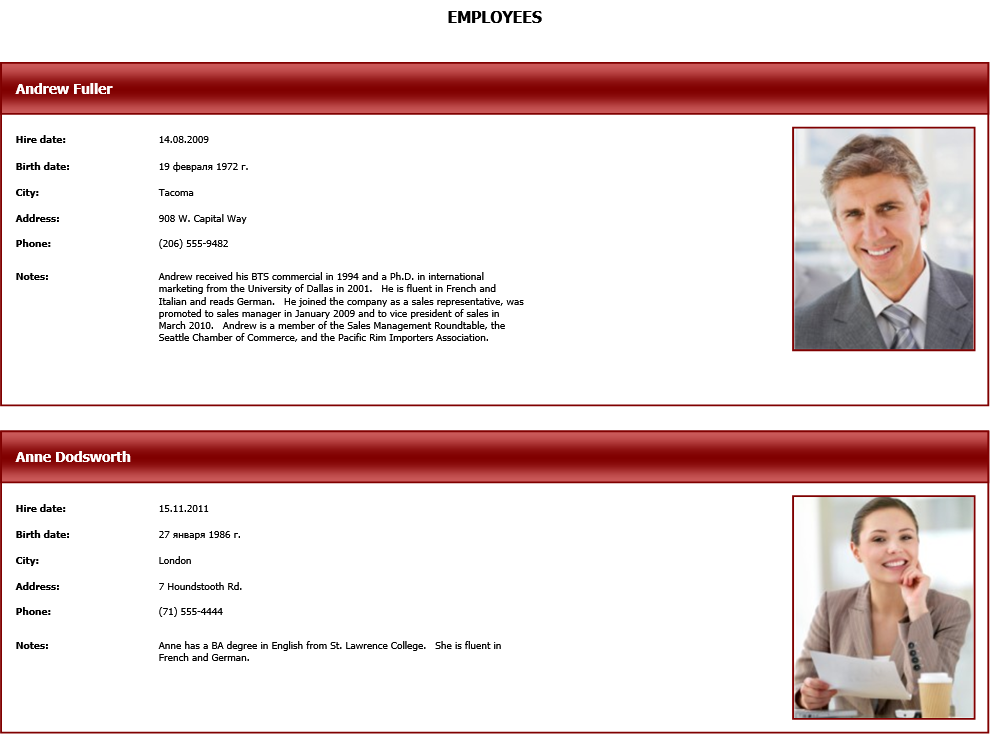 And that is export to odt format while viewing in MS Word: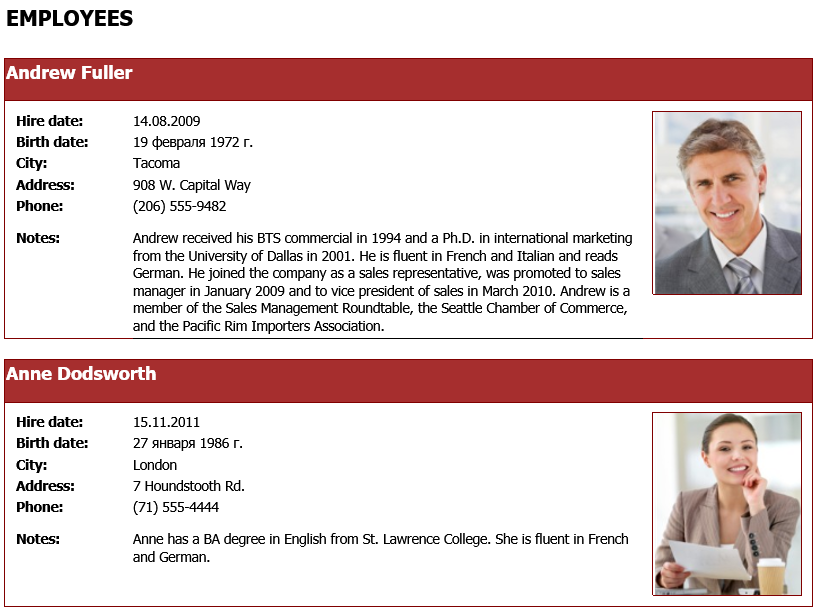 Export to DOCX for some reason has small fonts inside tables, but the frame corresponds to the original report.
ODT turned out to be closer to the original font size, but the frame does not fit anywhere. Note that Word has opened odt with slightly worse formatting than OO Writer.
Just as displaying documents of the same format in different programs is not the same, so the report generator converts the report into different formats differently.
From all of the above we can conclude that even using the same format will not give the same looking document in different word processors because of different implementations. Therefore it is better to use a text editor with a native format and not to dwell on the universality.