For more than half a century used barcodes. But this popularity they received during the database development. Barcodes allows you to quickly identify the goods and to find information about it in the database. However, today's two-dimensional bar codes can contain all the information about the product inside.
In the traditional sense bar code - a set of characters or lines arranged in a certain order according to the standard.
Classic bar codes are a series of vertical lines of varying thickness. The specific order and line size allows to encode characters.
Two-dimensional barcodes typically take a square or rectangular area and are composed of pixels, and combinations thereof. These codes allow you to encode more information than linear. In addition to characters can be encoded binary code.
Linear bar codes are used mainly in trade, logistics and inventory control, whereas the two-dimensional - in transport networks, government documents, identity cards.
The main advantage of the barcode - the quick and accurate code reading. Perhaps today there is no supermarket without a barcode scanner. One can imagine what would happen if the cashier will enter the identifiers of goods manually - long queues. In addition, there is a risk to make a mistake when entering a sequence of numbers.
Some linear codes are provided with self-checking. This avoids erroneous reading of the code, if it is damaged.
Two-dimensional codes have the same error correction mechanism. Even partially damaged code can be read, because of inherent in it redundant.
Different bar code standards are used for different purposes. Below is a list of the most popular barcode standards and contains the scope of each standard.
There is a great variety of barcode standards. All of them have a certain scope. FastReport.Net allows the use of the most popular bar codes in your reports:
- Linear: 2/5 Interleaved, 2/5 Industrial, 2/5 Matrix, Codabar, Code 39, Code 39 Extended, Code 93, Code 93 Extended, Code 128 (A,B,C) autoencode, EAN8, EAN13, UPC-A, UPC-E, Supplement code, MSI, PostNet, Plessey, GS1-128
- 2D: QR code, Aztec code, PDF417, Datamatrix
Consider the scope of each of them:
2/5 Interleaved - very popular high density barcode for coding numeric data. Based on algorithms Standart 2 of 5. It is used in logistics and warehouse inventory.

2/5 Industrial - barcode of any length to encode numeric data. This standard is used with the 60-ies for marking tickets and other purposes. Also known as Standard 2 of 5. The disadvantages are low coding density as light strips are not involved in coding, and perform only the role of the separators. Used in industry. Almost expelled by Code 39.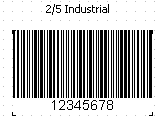 2/5 Matrix - the bar code of any length to encode numeric data. Legacy format. Disadvantages - low code density. Used in inventory control, marking tickets. Currently almost not used.

Codabar - discrete symbology with self-monitoring, developed in 1972 g. known in Japan as NW-7. It has the narrow and wide strips and the elements 7 to the symbol. It is intended to encode numeric data, some characters and four letters: A, B, C, D. Advantage - coding 6 special characters. Disadvantage - a small effective code density. Used in warehouses, transport, logistics, libraries, and some hospitals.

Code 39 - barcode with self-examination. Usually encoded alphanumeric data. This standard is widely used for many years and is the most popular in the world for common tasks. Now superseded by more modern Code 93 and Code 128, due to their greater compactness. Code 39 is a discrete symbology - so that the gap between the ciphers may be more than one character. Some people mistake the gap between the ciphers of the gap. Large gaps wider than do other code barcode with the same data, which is a major disadvantage.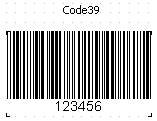 Code 39 Extended - includes lowercase letters and punctuation marks. It should be noted that Extended Code 39 represents the majority of the additional symbols using two characters from the standard set of characters Code 39. Consequently, Extended Code 39 characters is approximately two times longer than the standard Code 39 characters.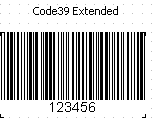 Code 93 - the code of arbitrary length. Code 93 was developed in addition to the Code 39 is a more compact code than the last. Code 93 symbology don't have self-checking. Code 93 characters include two Mod 47 check character. Special codes are used to provide a complete set of ASCII characters, which makes the system more reliable than Code 39.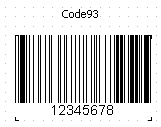 Code 93 Extended. Standard Code 93 encodes numerals and capital letters, and the extended code 93 encodes the full ASCII character set.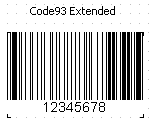 Code 128 - Modern bar code high density to encoding of numbers, letters and other symbols. Advantages - Compact, alphanumeric data. It is used in the trade, documents and various other areas that require a coded text.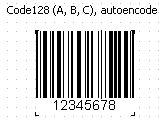 EAN-8 - a European standard bar code to encode to 8 digits. It is used in trade to identify the product, the manufacturer. The advantage - compactness.

EAN-13 - this is an expanded version of the EAN-8. It allows you to encode 13 digits. In addition to Product ID and the manufacturer, was added a country code. It is also widely used in the retail trade.

UPC-A - is a bar code similar to destination EAN-13, but is designed and operates in the United States. Encoded 12 digits. Scope - retail trade.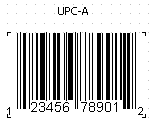 UPC-E - a shortened version of UPC-A. Encoded 6 digits. It is used in the retail industry, to be placed on small products where it is impossible to use a full format UPC-A.

Supplement code. EAN-8, EAN-13, UPC-A, UPC-E, may include additional bar code to the right of the main bar code. This second bar code is used to encode additional information for newspapers, books and other periodicals. An additional bar code may encode 2 or 5 digits of information.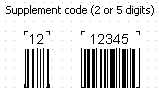 MSI - bar code to encode the numbers. It does not support the self-checking. It is commonly used to monitor the availability of goods on retail warehouses. This is a relatively "weak" code that not effectively uses the space.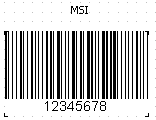 PostNet - bar code is designed specifically for the US Postal Service. Lets you encode numbers only. Coding postcodes dimension 5 or 9 characters and delivery code with size of 11 characters.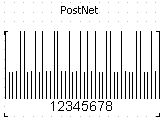 Plessey - outdated barcode is still popular in some industries. Supports encoding of numbers and letters: X, B, C, D, E, F. Also, an 8-bit CRC, divided by two control characters. Disadvantages include more stringent requirements for code printing quality, due to the thin strip cipher.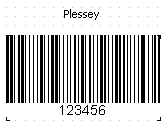 GS1-128 (UCC / EAN-128) - a modern type of barcode. It has a high density. Based on the algorithm of the standard Code 128. It is used mainly in logistics for the exchange of information on the cargo between enterprises. When encoding, just before the data is established a special identifier that identifies the type of data (date of manufacture, expiry date and al.)

PDF417 - a two-dimensional bar code to encode alpha-numeric data. It allows you to encode up to 2710 characters. It is used in the trade, the document flow in the organs of accounting and control, transport networks. coding algorithm is very similar to another format - DataMatrix.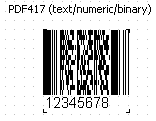 DataMatrix - a two-dimensional bar code to encode text and numeric data. The volume of data to be encoded on the enormous truth - from a few bytes to hundreds of kilobytes. But the most commonly used sizes of codes of 2 bytes up to 2 kilobytes. coding algorithm allows correcting code read errors due to redundancy. DataMatrix is used for labeling luggage transport networks, marking of electronic devices and components, on identity cards.

QR Code - a popular two-dimensional bar code to encode different information: numbers, text, binary, characters. Code is popular due to the ease of reading and resistance readings or damage to the error code. Developed and widely used (in virtually all sectors) in Japan. But in European products can often find this code.

Aztec code - another two-dimensional bar code to encode different information. The main advantages of which are: resistance to damage and distortion of the code, indifference to the orientation of the code when reading (even at an angle), compactness. Actively used in the railway and air transport, in public documents in some countries.

So, we have considered a brief description of each of the bar codes represented in FastReport.Net. Barcodes are used in most industries. For example, in logistics barcodes contain information about the cargo and route. All of the waybill information may be encoded in a two-dimensional bar code. This ensures the integrity of the information. In addition, bar code could replace the manual entry of information in the information system. This is useful in retail trade. The work of the cashier is much easier, and customer service rate increases.
Thus, FastReport.Net allows you to create reports for such scopes of activity as trade, logistics, inventory control, and other industries.