All
ComponentSource was established in 1995, to ensure Software Developers were supplied with the best software development products the world had to offer. Hitherto, inefficiencies imposed by the established, country-based, software distribution channels meant that only a small number of products made it to market. Consequently, ComponentSource pioneered the open market for reusable software components and tools, through innovative use of electronic software delivery (ESD). Today, ComponentSource offer the world's best collection of labor saving software through eCommerce Web Sites; carrying over 10,000 SKU's from 230+ Publishers. ComponentSource have offices in the USA, UK and Japan supporting over 100,000+ Customers, from 160 Countries.

A w a r d s

Contacts

650 Claremore Professional Way, Suite 100, Woodstock, GA 30188-5188, USA

Tel. +1-770-250-6100 | Fax. +1-770-250-6199

componentsource.com

sales@componentsource.com



CompuCom Canada is a national IT services and solutions company providing infrastructure management services, application services, systems integration and consulting services, as well as the procurement and management of hardware and software. With more than 20 years of IT experience, CompuCom employs thousands of highly skilled associates who have earned a nearly 100 thousand industry certifications company-wide. As experts in workplace services, CompuCom's unique Integrated Infrastructure Management (IIM™) solution reduces costs, increases productivity and helps clients gain maximum value from information.
Contacts
7171 Forest Lane, Dallas, TX 75230
Tel. +1 972-856-3600
compucom.com
contacts


Netsync Network Solutions (Netsync),is a HUB certified, minority owned, Houston-based, Value-Added Reseller,who holds a variety of manufacturer and industry certifications while specializing in the areas of Networking, Servers, Storage, Wireless Devices, Security, Enterprise Computing, Datacenter and other IT-related disciplines.
Contacts
2500 West Loop South, Ste 410, Houston, 77027
+1-713-218-5041 | +1-832-606-2131
Lola Charles lcharles@netsyncnetwork.com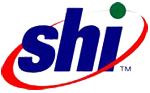 Software House International, SHI, is a global procurement outsourcing company and leading business-to-business solution provider. We can fulfill orders for over 100,000 hardware and software products, and offers a full menu of services.
Contacts
290 Davidson Ave. Somerset, NJ 08873
Tel. +1-888-764-8888
shi.com